Do you ever post to Facebook, LinkedIn, or Twitter? For yourself or clients? Please try to use words that people will understand. Avoid acronyms unless they are truly common. Your specialist audience will forgive you, and you'll help tangential influencers get your message.
This just popped up on my Facebook news feed. If you like
Microsoft Visual Studio
, it's on your feed too.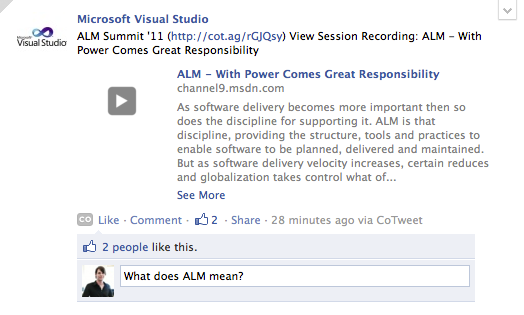 It is a post inviting me to click through and get excited about something called ALM. I don't know what ALM means. I feel a little dumb about that. Especially because I see a couple of people liking this.
Imagine you are in a restaurant, and your server smiles and says that the special is a delicious smjörköku. Two of your friends at the table smile at you and say "I like that!" You might feel dumb.
And of course you shouldn't. I know that the title and body copy on this post can be easily edited and customized by the poster. Explain the lingo. Maybe you only care about speaking to people who know your acronyms. I work with developers and think
Visual Studio
is pretty cool. I am lucky enough to be in a position to influence decisions, but you make it harder for me to help you tell that story when you confuse me.
Fortunately, I did click through. And Thomas offers some great points. The most important mobile applications are customer focused. That's where the customers are. Applications are growing in complexity and live as systems and vehicles of engagement. The cloud changes the game about application delivery. I get that it's important. Devs are hustling to keep up and serve both the business people and the IT people. Visual Studio has features to help developers deploy their applications more easily and efficiently. He's talking about Application Lifecycle Management. Which is a thing that he specializes in.
Thomas also says some weird things. Like "Did you know that water-scrum-fall is the reality for most teams?" But I think it's just because he is an analyst and we communicate differently. Hey the video content can be specialized and technical, that's cool. Just use the Facebook post to set it up and give us the "so what."
You could have done a better job of distilling the overall concept/story into a more impactful post. Think "executive summary."
Please give more thought to the accessibility of your social media content language. Careful word choice and sentence structure can make a good post great.
Thanks.